The Students

The Classes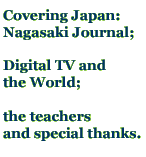 Thirty-Year Fight Pits Activist, Dam Interests
Yatiyo Yamashita, Whose Husband Won the Goldman Prize, Wants To Prevent Filling of Isahaya Bay

By Jessi Hempel
Special to the Mercury News
(This story originally appeared in the San Jose Mercury News on August 8, 2002. Click here to view it on the Mercury News web site)
NAGASAKI, Japan – Yatiyo Yamashita ignored signs marked "no trespassing" as she scaled the seven-foot wall near the north gate to Isahaya Dam and picked her way across dried and broken shells.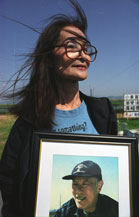 Yatiyo Yamashita, 70, holds a picture of her late husband, Hirofumi, whose scientific work spurred the fight against the Isahaya Dam.
The wall separates 14 square miles of Isahaya Bay from farms that rest in the shadow of volcanoes. At the mouth of the bay, a four-mile causeway holds back the Ariake Sea. As part of a landfill project, construction workers are depositing earth to make farmland from an area that was once one of Japan's largest tidal flats.
"This mud used to be a meter thick all around here," Yamashita said. "It was filled with mudskippers, but now there are none left."

Eel-like mudskippers are one of 55 species native to Isahaya Bay that environmentalists say are approaching extinction because of the dam. In the 50 years since this controversial public works project began, it has had many justifications, but its goal has remained the same: to create arable land from Isahaya Bay.

In 1997, the first phase of the project was completed when 293 metal slabs were dropped across the bay in guillotine fashion, sealing it off from the Ariake Sea. And in 2006 when the landfill portion of the project is scheduled to be completed, government officials say 4,446 acres of land will be sold to farmers.

Those who support the public works project – mainly government officials and local farmers – now say it is necessary for flood control following natural disasters. "We need to establish a bank of land to protect people from tidal waves and typhoons, and we need to build streams to drain flood water efficiently," said Kenji Maeda, the chief advisor of the Isahaya Dam Project Office. He also said the new land would be sold to vegetable farmers who have not been able to plant their crops in the local area because of a land shortage.

Those opposed – including some fishermen and environmentalists – say the dam has led to a decrease in the amount of fish in the Ariake Sea and a decline in the seaweed harvest.

"This is a genocide of the fish," said Biologist Mikio Azuma of Nagasaki University. "The tidal flats of Isahaya Bay were a filter for the Ariake Sea. They purified the water. Now the sea is polluted and the fish are dying." Azuma said the muddy tidal flats separated volcanic sediment from the seawater and facilitated chemical reactions that released oxygen into the sea.

Yatiyo Yamashita's late husband, Hirofumi Yamashita, spent his life studying this process. His scientific findings spurred him to speak out against the project. He and his wife have been vocal in the project's opposition movement since the 1970s when they first joined efforts with local labor unions and fishermen.

In 1997, after the dam's closing was broadcast nationally, that protest movement grew stronger. "The news program spurred a wave of environmental awareness that hadn't existed in Japan," said Minoru Okuda, an environmental activist in Tokyo.

In response, the Yamashitas formed the Isahaya Wetland Emergency Rescue Task Force. Together with fishermen and seaweed farmers, who feared a decline in their yield, they organized a campaign against the project. "This place was packed," Yamashita said, pointing to the back of her home. "Some people stayed in here and some even slept at the dam."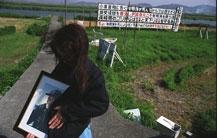 Their protest movement gained international attention and support in 1998, when Hirofumi Yamashita was given a Goldman Prize, a $100,000 award for environmental activism.

University economics professor Jun-ichi Himeno remembers Hirofumi Yamashita as a scientist so passionately devoted to his activism that he seemed a little crazy. But Himeno called Yamashita and his wife symbols of environmental activism.

"Nongovernmental organizations and local nonprofits have rallied around them," said Himeno. "And now their lobby matters more. The government can't make decisions anymore without consulting environmentalists."

After Yamashita's death, his wife has worked to keep the movement alive. Yet many of those who opposed the dam have switched camps. In one local fishermen's union, more than half of the fishermen became construction workers when they could no longer support themselves as fishermen. "Though I'm sympathetic to the fishermen, it is a great blow to our work," she said.

The $2 billion public works project plays an important economic role in the community. Officials are reluctant to provide detailed information about the project, but Himeno estimates it employs more than 500 people. And a local newspaper reports nearly 40 construction companies have contracts to work on it.

"Local industry development matters more than environmental issues," said Himeno.

He calls the dam "dictatorship development," a pet project of top officials. "The Governor of this prefecture is the son of a member of the Ministry of Agriculture who decided on the original budget for the project," he said. Then he added that the powerful Ministry of Agriculture, which funded part of the project, has close ties to the construction industry.

With the construction lobby and government support for the project, and with an increasing percentage of the community turning to the project for employment, it's likely that the tidal flats will be obliterated. Every day with every bit of landfill the muddy flats of Isahaya Bay become more irretrievable.

But Yamashita continues to speak out because these tidal flats are her husband's legacy. Burying them is like burying her husband, and she cannot watch this without being moved to action. That's why she continues to put 15-hour days into the bimonthly newsletters she mails to 400 supporters.

And as often as she can, she scales the wall to bring visitors – students, reporters, environmentalists – to dig in the mud that was once Isahaya Bay.