The Life of a Church

Explore the rich history of Mt. Zion Baptist Church through the eyes of its members. Detailing the history of this church, founded in 1922, Inside Oakland reporter Kate Bedall brings back the story.
Henry Delton William
Williams was brought up in West Oakland and went on to design clothing for some of the most famous stars in the business. He spoke with Inside Oakland reporter Stuart Luman about his life.
Love Perry Jones 1907-1998

Love Perry Jones died several weeks ago at the age of 91. He spent untold decades in West Oakland. I hope to tell his story.

click here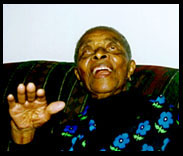 Clara Jones

Ms. Jones is 98 years old and the sister of L.P. Jones. She spoke with Inside Oakland reporter Stuart Luman on her birthday recently.

Click below to hear Real Audio sound clips of her conversation.