Hong Kong Drives Out Unwanted Chinese Immigrants
Hong Kong --On his last day in Hong Kong, in the end of March, Chan Wail Wah, a five-year-old boy wore a blue and red Superman shirt and held his yellow dinosaur tight in his hand. The Hong Kong High Court of Appeal decided last January that Chan Wai Wah had no legal right to stay in Hong Kong and that he should return to China. He had been adopted as a baby by a Chinese couple who later became HK residents but he didn't get HK residency because he was adopted. He looked curiously at a dozen photographers. When his foster mother started to cry and the flashes blinked, he stood up in front of her, trying to protect her from what was about to happen.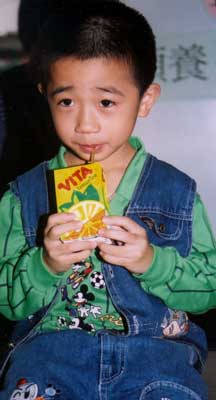 Chan Wail Wah, a five-year-old adopted boy
Photo by Hadas Ragolsky
Chan was one of 13 adopted Chinese children of Hong Kong residents who were not allowed to stay with their parents and were facing deportation across the border to the mainland. Those children are part of a larger group in Hong Kong of residency seekers, estimated at several thousands, trapped between contradictory court rulings and governmental policies that followed the hand-over of Hong Kong back to China in 1997.
For many Chinese, Hong Kong offers a better way of life: economic opportunities of a free market and a system which gives a person more freedom as well as security. In the last 30 years, Hong Kong's population has doubled to an estimated 6.9 million people, the majority of them from the mainland China. During these years, many Chinese people who were allowed to leave China with only one or two children or those sneaked over the border had decided to leave behind them family members, hoping to reunite with them by applying for permits once they have legal HK residency. But the often arbitrary and corrupt Chinese immigration system has forced those spouses and children to wait years before getting permits which will allow them to settle in HK.
"Some people waited (in China) since they were born and now they are in their 20s' and 30s'," said Gladys Li, A solicitor who represented many of them in courts. "The older you get, the less chances you have to stay," she said.
In July 1997 it seemed everything was about to change. China gained its sovereignty over HK and the Basic Law came into effect declaring a right of residency for children of Chinese citizens who had at least 7 years residency in HK. Thousands of people from China who suddenly became eligible to become HK residents joined their families in the city. The HK government estimated that 1.6 million people in the mainland would seek to exercise their right to move to HK, a number subject of debate between officials and nonprofit organizations which believe the number to be much smaller.
In response, the HK legislative council enacted a law preventing children born before their parents became permanent residents of HK from having the right of residency and imposed a quota system in China, where those children would have to queue to reunite with their parents. In 1997 the residency seekers challenged the new legislation as unconstitutional in the Hong Kong High Court of Appeal. While waiting for court decision, many crossed the border with tourist visas and overstayed in the territory. HK officials announced that they would respect the court's verdict but in January 1999 when the court ruled in favor of the applicants, the HK government asked Beijing to help dismissing the verdict. The Standing Committee of the National People's Congress overturned the court decision.
For many, this move meant that the HK judicial system lost its independence. Legislative council member Cyd Ho explained that by sharing responsibility with the Chinese, the government was excused from facing the problem in a democratic way. "They knew that we would ask for transparency and to monitor the process. Now they can say they don't have the power," she said.
In a second round in court last January, although the court acknowledged the legitimate expectation of the claimants, its verdict benefited few, forcing the majority to be separated from their families again. The HK government, in collaboration with the Chinese government, offered a grace period of three months to the end of March allowing them to return back to China without facing any penalty for overstaying in HK. Around 11,000 people in the territory were affected by the decision. Many more were affected in the mainland.
Gladys Li, who had represented the plaintiffs, chose her words carefully when asked about the court ruling. "The court goes into frozen mode once it has to deal with a large number of people," she said. According to Li, individual cases received better responses in court. This wasn't just another case for Li who read thousands of emotional letters by claimants. "One has to try not to take it personally but it is hard to help it," she said.
Although the figures were a question of debate, and were officially reduced to only 600,000 people, it scared not only the officials but also the majority of the HK population. Reluctant to share their fortunes with their former fellow-citizens, the average HK citizen was happy with the verdict. Fears from instability, crime, deeper unemployment that already reached 6 percent and of exploitation of the welfare system were the main causes for them not to support the fight of the residency seekers to stay in HK. "The anti-mainlanders existed even before the government spread those fears," said Gladys Li. Li thinks HK needs those people. "We have the lowest natural rate of reproduction. If we don't have new young people, we need immigrants," she said.
The immigrants struggle wasn't only in court.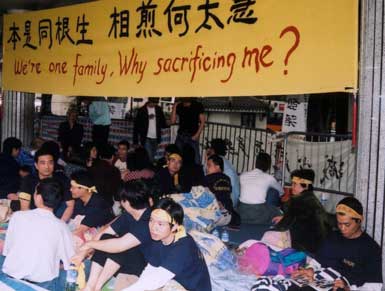 Hunger Strike
Photo by Hadas Ralgosky
Other activists devoted their time trying to promote the cause. "It is a tragic story of thousands of people," said Jackie Hung of the Justice and Peace Commission of the Hong Kong Catholic Diocese. The 30-year-old activist was a leading voice among the those who tried to help the immigrants in HK. Her office is located in a corner of a local market. Christ on the Cross hangs on the wall. The bookshelves hold religious books alongside human rights reports. On her table and the floor were boxes filled with hundreds of letters. "Every one of them is a human rights case," she said. "And even if they don't have a special case, they should be allowed to stay."
She spoke about Lin Yeung-ming, a 19-year-old who was rejected not only by the HK court but also by the immigration department which refused to let her stay with her twin sister in HK. Six years ago, the Chinese authorities told her parents to choose one of the twins to accompany them to Hong Kong. Her father, unable to choose, asked the girls to play three games of quote rock-paper-scissors, a traditional choosing game, and Yeung-ming lost. She stayed by herself in the mainland and joined her parents only two years ago, overstaying a tourist visa. But the immigration department wrote her a rejection letter. "After a serious consideration, it is considered that your case does not have sufficient humanitarian and compassionate grounds to support your request to stay in Hong Kong with discretionary approval"
According to the quota system, people like Yeung-ming are unlikely to get permits since they are over the age limit of 18. Two weeks ago, two days before her departure date, the immigration department, under pressure of international media, granted her permission to stay. But others in her situation weren't as lucky.
Jackie Hung of the Justice and Peace Commission tried every peaceful way to help the residency seekers. She organized court appeals, letters from the Bishop of HK to the immigration department, vigils, rallies and demonstrations. A few weeks after the court ruling the Justice and Peace commission wrote a letter to Mary Robinson, the Human Rights commissioner of the United Nations. Other nonprofit organizations wrote similar letters, but the UN didn't respond.