Hong Kong Drives Out Unwanted Chinese Immigrants (Continued from the previous page)

In the meantime, Chinese who want to reunite with their families in HK must rely on the quota system, which allows reunions for 150 people a day. Those include spouses, children under 18 and children over 18 when their parents are over 60 (and there is no other child to take care of them or their other child died). The last category is for parents who want to join a child who will take care of them. On top of all this the Chinese decided to have different categories for people from different regions in China. A person from Canton or Fujian will have to wait twice as long as a person from Xian or Beijing, for example.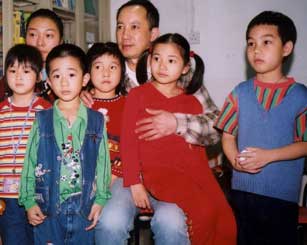 Children with Ho Hei Wah, director of SOCO (Society for community organization), a non-profit organization that tried to hep the adopted children.
Photo by Hadas Ralgosky
"There isn't really anything wrong in not allowing people older than 18 not to come," said Choy So Yuk, a legislative council member of the Democratic Alliance for Betterment of Hong Kong, and the most pro-Beijing member of the council. "It is universal practice."
But many of the young people, ranging in age from18 to 35 who held a hunger strike in the last week of March to convince the immigration department to give them a concession, did not agree.
Ten days before the end of the grace period, Father Franco Mella, an Italian priest who has lived in HK for almost 30 years, began a hunger strike in support. "Their fight for family reunion is a secret one and we have to support them by all means that we can," he said. Although most of the immigrants aren't Christians, the main source of help they got in HK was from Christian organizations. Hundreds of residency seekers and their families joined him at Chater garden, behind the legislative council building. Many of them came to ask for his words of advice, "spiritual food to digest," as he put it. "Prayers and fast - I think we need them both in order to see a turn of events," he said. They brought their mattresses and blankets, built a small Buddhist altar and hung signs in English and Chinese, trying to attract the attention of passersby and legislative members.
Meggie Lan Ching of the university of HK was one of few students who kept visiting the strikers. "Most of them aren't interested in that issue," she said referring to her colleagues at the university. "The economic situation isn't so good now and some HK people are selfish, who want to protect what they have," she said. "They think the mainland Chinese will get their jobs so they reject them."
Lan Ching translated some of the strikers' stories. Bo-Bo, in her late 20s' came two years ago to help her disabled mother. In a low soft voice after fasting for full 3 days she tried to tell her story to anyone who was willing to listen. Her disable mother reunited with her father after more than 20 years of marriage. Her father is unemployed. Bo-Bo became the only provider of the family. "I will not go back," she said. "I've no one in China." Others told similar stories.
Nag, a 30-year-old shoemaker, came to HK three years ago to reunite with his parents. When he was a child, his family was forced by the authorities to leave him in China in order for them to keep sending money to China. His parents, with his three siblings, started a new life in HK, waiting for the day Nag would be allowed to join them. He hoped to have better life in Hong Kong, dreaming about the rich life he can find in the island but now he had doubts. "I'm not afraid to go back," he said, "but I wish I didn't have to wait so long for nothing." Like many among the strikers, Nag came from Fujian, the same province where Council member Choy So-Yuk came from.
Choy and her mother illegally crossed across the border when she was teenager, in order to reunite with her father who was already in the Philippines. But her personal story, as well as the fact that many of the immigrants came from her hometown, doesn't change her mind. "Whatever is said by the Court of Appeal is final," she said. Choy estimated that one million people would have come only from Fujian if the law hadn't been changed. "How can we cope with it if overnight one million people will come?" she said. She didn't support the vocal demonstrations and rallies. "I told them not to do the hunger strike," she said. "The Chinese government works 'by soft and not by hard.' They are Chinese and they know this culture, the more you speak out (vocal), the less they will work with you." Choy tried to use her influence to persuade the Chinese government to consider people up to the age of 25 eligible for permits. She also suggested creating a separate queue for those residency seekers who lost their cases in court. But, the procedures didn't change and Choy remains a symbol of official hardheartedness.
At the end of March, the immigration department director didn't consider even one case, among 500 who applied, as a humanitarian case.
"This is dereliction of power," said Cyd Ho, an independent member at the legislative council. "Why not exercise their discretionary power?" Ho is one of few legislative council members who support the residency seekers' right to stay in Hong Kong.
Five days before the grace period expired, the adopted children who weren't allowed to stay and one parent from each family took the train back to China. They realized they had a better chance if they went together. But their gamble paid off. After a week, all of them received tourist visas to go back to HK where they will still have to apply for residency. In the meantime they will not be eligible for school or welfare.
But there was no happy end for most of the immigrants.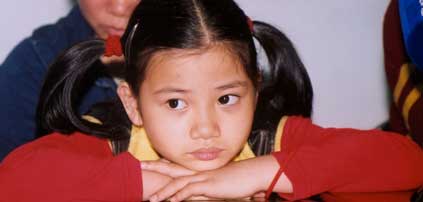 A 7-year-old adopted child
Photo by Hadas Ralgosky
At the end of March, hundreds came to the immigration office in order to receive the documents of exemption from punishments. The immigration officials emphasized that almost 4000 people who left voluntarily. Father Mella finished his hunger strike almost by himself.
But in the weeks that followed the majority of the 4,300 people who were still in HK decided not to go back to China. Some went underground. Others, together with their families, started more vocal demonstrations, influencing HK public opinion for the first time. While some of it may benefit the residency seekers, the events indicate that the situation might escalate to more violence once the HK police will come after them. In the last few days more than 100 immigrants were already forced to leave Hong Kong.
The activists don't lose hope. They still believe that HK will eventually influence China, and not the other way around.
"It is a lost battle but it isn't the end," said Cyd Ho. "We have to stay optimistic about the possibility for family reunion, for democratization of the mainland and for more human rights in China," she said. END