Why do we need green spaces in cites? And who benefits from them?
Research shows surprising health and safety benefits. Communities of color and low-income communities show particularly high gains from more access to parks and green spaces.
So how can policy choices ensure that disinvested communities get access? And what does this have to do with respect? To find out, Lauren Randall of Berkeley's Goldman School of Public Policy talked to Angela Glover Blackwell, Founder In Residence at PolicyLink, Peter Hamilton, a Lieutenant with the San Francisco police department, and Luis Costillo, a volunteer with the Boys and Girls Club of San Francisco.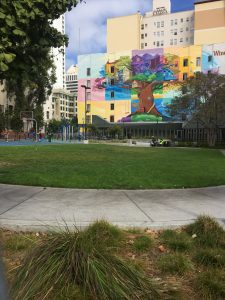 REPORTER: Lauren Randall
MUSIC: Aretha Franklin, Respect
PHOTO CAPTION & CREDIT: Lauren Randall