By Marta Franco (class of 2013)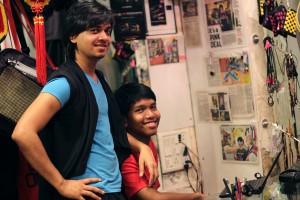 MUMBAI, India, April 2012—After more than a century in the shadows, India's homosexuals emerge from the closet.
On a sunny Sunday afternoon, Mumbai's western suburb of Bandra, home to mostly observant middle-class Roman Catholic and Sunni Muslim families, is packed with people. Visitors and residents stroll the seaside promenades. The shop-strewn main streets are abuzz with vendors selling cheap shoes and colorful scarves. On the quieter, tree-lined lanes, customers visit little specialty boutiques and stores.
Down the 16th Road, a rainbow flag welcomes you to one such store: D'kloset. Outside, there is a mural of a man pulling another out of a closet. "No, no," he says. "I'm not coming out."
D'kloset owner Inder Vhatwar will tell you that is time for gay people in India to step out of the closet that locked them in for more than a century.
—
Marta's final story is a print piece.