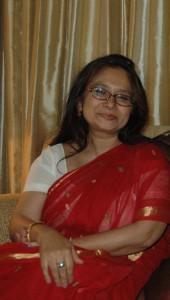 In 2010 Nupur Basu was a  Nirupama Chatterjee Teaching Fellow for the spring term at the UC Berkeley Graduate School of Journalism. She taught a course called "International Reporting : India." She is an independent journalist, award-winning documentary film maker and media educator from India .
Her longest stint in print was with India's leading national daily, Indian Express (1982 to 1991), India Abroad (1991 to 1994) and in television, wih New Delhi Television (NDTV) (from 1994 to 2006) working as the Senior Editor.
For the last three decades Basu has worked in both print and television journalism and reported and filmed extensively from different regions in the world like India, UK, Uganda, Switzerland, South Africa, Spain, Pakistan, Sri Lanka, Nepal and Bangladesh. In October 2011, the tenth anniversary of the NATO troop deployment, she wrote op-ed columns out of Kabul, Afghanistan.
Basu has reported extensively on politics, development , gender, child rights, issues of livelihood,hunger, health,environment and technology in print ,television and documentary films.
Presently an Associate Fellow at the National Institute of Advanced Studies (NIAS) at Bangalore, Basu is also on the Board of Panos, London and on the executive committee of the Delhi based, Media Foundation.
Basu has also made five independent documentary films between 1995 to 2008 :
"No Country for Young Girls?" (2008- produced by TVE ,UK and telecast on BBC World)
"Lost Generations" (2000 – produced by TVE,UK and telecast on BBC World)
"Michael Jackson Comes to Manikganj" (2000 – supported by Media South Asia and IDS, Sussex and Ford Foundation.)
"Mothers of Malappuram" ( 1997 – produced by TVE, UK and telecast on BBC World)
"Dry Days in Dobbagunta" (1995 – produced by TVE, UK and telecast on BBC World)- award for Excellence in Television at IAWRT Festival at Harare, Zimbabwe in 1997.)