By Alissa Figueroa, for Free Speech Radio (class of 2011)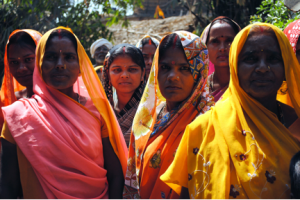 UTTAR PRADESH, India, April 2010—Most of India's rural women farm, but only 15 percent of them own the land they cultivate. As men leave agriculture for work in India's growing service and construction sectors (often in cities) the country's primary cultivators–women—are left without legal land titles. That means they can't take out loans from banks or government subsidized credit programs, and in many states, they can't sell their produce at government wholesale markets to ensure a fair price. But the women farmers of India have joined together, in small village-level lending groups, and large, well-organized federations and campaigns to negotiate the system, and fight for full land rights. Slowly, rural women are making their voices heard, even in parliament, where for the first time ever this year, women farmers received an allocation in the country's national budget.
…
Hear the story at Free Speech Radio
Alissa Figueroa travelled to Uttar Pradesh and Uttarkhand to report on female farmers. Her final project is a radio story for Free Speech Radio.