By Richard Parks, for Salon (class of 2011)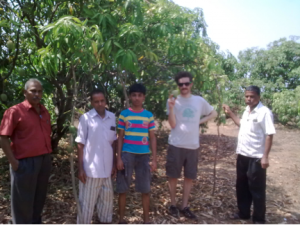 MUMBAI, India, June 4, 2010—India's Alphonso mango is a fruit with an aura. It's flavorful, aromatic, small-pitted and as smooth as silk (with none of the fibrousness of Mexican mangoes sold in the U.S.). The Vedic texts praise mangoes as the "fruit of the gods," and the Alphonso has deservedly been dubbed the "king of fruits" for its royal taste. It can be found in Mumbai's markets and in the Konkan Coast of southern Maharashtra, where generations of farmers have been growing the rare mango cultivar for hundreds of years.
The year 2006 might have been the turning point, though, for this divine fruit. As a carrot for India's accepting U.S. nuclear technology and policy, George W. Bush opened the U.S. market to Alphonsos. The Indian government, anxious to brand the Konkan Coast as "India's California," offered subsidies for farmers who would cultivate the mangoes for export. Since then, in Ratnagiri district, production has been up more than 200 percent.
Watch the video:
[iframe_loader width="100%" height="400″ src='http://player.vimeo.com/video/11444761′]
…