Video by Helene Goupil (class of 2010) and text by Allison Davis (class of 2010)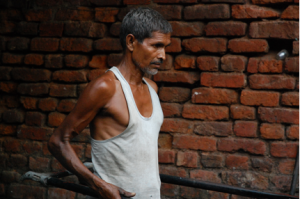 DELHI, India, April 2010—On a chilly night in downtown San Francisco, the Giant's baseball game had just ended, unleashing a tumult of people into the street looking for a way home. Some wait in line for over-packed public transportation. Others wander towards the increasingly long taxi stand.  As the crowd grows restless, a twenty-something man rode up on a cycle rickshaw, he slows to a stop as two women waved him down. "How much for a ride to the Mission?" they asked, a distance of about 3 miles.
"Sorry, that's too far," he said riding off, the  lone cycle rickshaw seen that evening.
As the night ends in the Bay Area, the Sun is just beginning to rise over the craze of  Delhi streets.  The famous traffic moves like a mass of writhing snakes — cars, auto rickshaws, cycle rickshaws and pedestrians all  moving through and around one another.  The cycle rickshaws, a favorite choice for commuters thanks to low fares, number 8 million in Delhi  and can deftly weave in and out of the commuter hustle. Among them. A thin and quick moving man in a light cotton, mustard button down Pasawan cycles through the Delhi streets looking for his first customer of the day.
[iframe_loader width="100%" height="500″ scrolling='none'   src='http://player.vimeo.com/video/11432645′]
The Cycle rickshaw has always been a mainstay of life in Indian cities like Delhi and Kolkata. But, in the past decade as the push for green transportation reaches a fever pitch, it has spread to other cities. New York, San Francisco Bay Area and London all boast a growing cycle rickshaw force.  However, unlike the San Francisco counterparts  — a young, healthy man with a drivers' license and a t-shirt boasting the company for which he works and a love of cycling — cycle rickshaw pullers in Delhi are rarely as fortunate.
Paswan, 32,  lives in the slums of Rohini, a town north of Delhi.   He has driven a pedicab for 16 years since migrating from Bihar.  At the end of his day transporting passengers an average of 20-25 km  returns to the minute room he rents in a two story stone structure. To get to his room, he wheels his rickshaw through the narrow, winding  avoiding stray dogs, free-roaming children and piles of  burning waste. He climbs a rickety wooden ladder and deftly scuttles across  a ledge the width of a bookshelf .  Drawing  back the curtain of the narrow doorway, Paswan reveals a  dark and cramped  room with a low ceiling— a full grown man can hardly stand up straight without having the top of his head lopped off by a spinning steel ceiling fan.  His possessions are few, some clothes a few sets of beads,  cooking utensil, a single plate stove and a plastic bucket in the corner for water.  But still it is better than other rickshaw drivers who have to sleep in their rickshaws pulled over on the side of the street — Paswan has done that too.
Paswan  is representative of  the class of struggling rickshaw drivers. He migrated from Bihar, and with little education he chose to pull rickshaws — a job with no necessary training. Paswan makes about 70 rupees a day (about $1.50) most of which, he sends home to the wife and child he left behind.
Is not a unique story.  Cycle rickshaws or pedicabs were  introduced to Delhi in the 1940's to replace the hand-pulled rickshaw that is still popular in Kolkata.  Even with the rise of auto rickshaws, cars or motorcycles, the pedicab has continued to grow in number It's hard physical labor but it requires little to no education or training. It is an entry level job that offers a way for the drivers to make money in the agricultural off-season though a higher number are year round drivers.
Vignesh Jha is the Director for the Federation for the Rights of Rickshaw Pullers (FORPI) and has immersed himself in the lives of rickshaw pullers in hopes  of  bettering their lives.  He witnesses the difficulties of migrant life. Often malnourished, the physical labor requires about 4,000 calories, while most only eat 1,600. The pullers live in Delhi for 10 or 11 months and often have no way of  communicating with his family for weeks.
Paswan missed the birth of his 4-month-old daughter.
Due to the loneliness and isolation, many pullers, like Paswan, turn to alcohol.  Some also turn to what Ina  delicately calls the "bachelor's life", which results in exposure to HIV or AIDS and is often transmitted back to the wives.  Malnutrition and tuberculosis are also common. "Everyday they work hard, they serve hard," said Ina, "it is incredibly hard on their bodies."
But what other choice is there?  "We stay here to feed our children," Paswan said of his reasons for enduring the rampant hardships.
More than just bodily abuses, rickshaw pullers who do not own their own pedicabs,  often suffer exploitation from the people from which the rent— they are often forced to pay 30-40 rupees a day in rental fees.  Without formal licenses the police, who will sometimes seize their rickshaws, often harasses them said Paswan.
"They say our documents are not valid and slap us with more fines… the municipal corporation officials kept taking our rickshaws and fined us 1,000 rupees every time."
That was before FORPI, says Paswan.
Outside of the Japanese Gardens in Rohini, over 50 rickshaw pullers parked their pedicabs in an abandoned expanse of dry land next to a building site. From the back of each of the Rickshaws was a red sign with the FORPI  motto written out.  Many of them were draped over the handles of their vehicles, sharing chewing tobacco and water from one silver milk container.  Some were napping in the seats of the rickshaws but all had come to hear  Vignesh Jha speaks from a warbling single amp and microphone.  As Ina passed through the crowd, an altruist rock star sweating in rumpled business attire, the group of pullers rose to their feet and   pressed their together in a pose of thanks.
After all, this was a man who was working to save their livelihoods and their lives.
Through FORPI, pullers like  Paswan have been able to stop drinking and have organized with other pullers. FORPI has worked with  over 870 pullers, provided them with id's, medical attention and is working to subsidize the rickshaws the pullers can own their own.
The improvements seem small, but they make an enormous difference in their lives.
Jha has mortgaged his house to continue to fund his endeavor, he purses it with relentless fervor.
Several other organizations like American Indian Foundation have joined in partnerships with banks and government organizations and micro-credit lenders to improve do the same thing but on a much larger scale. There is, it seems, a much greater push to empower the pullers.
This week President Obama honors an Indian management philanthropist in the White House for his efforts in helping rickshaw pullers. He has invited Irfan Alam, chairman of SammaaN Foundation to a meeting of social Entrepreneurs. Alam, a resident of Patna , has been gaining media attention for the work he has done for  rickshaw pullers — it is incredibly similar to Jha's work. Since launching in 2008, his program has helped over 300,000 pullers. He has banks finance rickshaw and stocks them with newspapers, bottled water and other items rickshaw passengers can buy. He also plasters ads on the cycle rickshaws themselves — the drivers receive some of the revenue as well as make a profit from the goods they sell.
Most importantly, Alam empowers the driver by giving them uniforms and I.D. cards and encourages weekly gatherings.
In Kolkata where the king of the road is the hand pulled rickshaw, the pullers thoroughly understand the importance of this empowerment. Hand pulled carts are incredibly important to the people of Koklata, especially when monsoon season renders all other vehicles useless.  For the pullers there,  life seems to be mildly better. Though, still wrought with diseases and a shorter lifespan. Many live together in darwas or garages that, for the most part, seem clean and comfortable though sparse.
Last year the government decided to ban hand pulled rickshaws from the road, with the help of organizations like the Calcutta Samaritan Fund, they were able to begin to fight the ban. Though many heralded 2008 as the last days of the handpullers, they are still on the road — an empowered puller can accomplish quite a bit.
"I think the rickshaws have been part of the city from way back they are needed in some parts of Kolkata negotiating the tiny lanes would be impossible for any other kind of vehicles, and because during the monsoon they're deeply appreciated when the streets are flooded that's when they make the most money. They become part of the culture the whole scenario of the city," says Premila Pavamani the director of the Calcutta Samaritans.
To date, upgrading from hand pulled rickshaw to cycle rickshaw was the extent of the technological advance in the industry. For over 40 years, with the exception of making the cycle rickshaw lighter, there has been little done to ease the physical load  for pullers— until now.
With the anticipation of the Commonwealth games in October, the Council of Scientific and Industrial Research has developed and rolled out a fleet of solar rickshaws. The Soleckshaw, as it has been named, is a hybrid human/solar battery vehicle. With the extra boost from the battery, the driver can carry two passengers at speed of 9 mph. More than simply helping with physical labor, CSIR is providing uniforms and training — something many rickshaw drivers are denied.
The cost of the rickshaw is much higher, however,. At 20,000 – 30, 000 rupees it is out of the price range of the majority of pullers who aspire to own one, even with government subsidies.
Whether these improvements are for the benefit of the drivers or the benefit of Delhi's public image remains to be seen. But, regardless, if the Soleckshaw becomes widespread it will be a government-sponsored way of making an enormous difference of the Indian rickshaw driver.
"We intend to replace all 8 million rickshaws with solar rickshaws." Says CSIR director, Samir Bramachari.  Currently there are 1000 in service throughout India.
For now, the fight for survival, fair wages and for a healthy life continues to be a day-to-day struggle.