By Lillian R. Mongeau, for GOOD.is (class of 2011)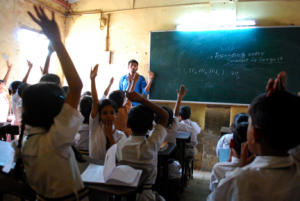 MUMBAI, Maharashtra, April 2010—Skinny arms stretched high, 59 eager hands rose above 60 equally eager faces. Even as one hand seemed about to be clipped by a fan circling overhead, students covered their mouths to remind themselves not to shout out the answer before being called upon.
Save the whir of the fans, silence prevailed, but this did not prevent Umer Gauss Khan from jumping a bit or Afrin Akram from standing on the very tips of her toes, adding a few extra inches to her petite frame.
So far, this second grade class in the Govandi neighborhood, a slum near Mumbai, India had correctly placed three numbers-1, 11, and 21-in ascending order.
The question they were all so eager to answer: Which number comes next-111, 101, or 99?
The students sat three to an old-fashioned bench desk and each wore a dusty, white uniform and brown tie bearing the initials of their private English school: Shri Geeta Vikas Mandal, where tuition is about $4 per child per month. Most of the families who send their children here cannot afford even the meager fees and the school depends on charitable support to cover the difference. The lack of funds, however, has clearly not dampened these students' appetite for learning and may be in large part due to the man standing at the front of the room and the woman giving extra attention to a boy in the back.
This is the classroom of Rahul Ranjan and Iffat Khan, two of the first to heed the call of Teach For India, a new program that trains and places recent college graduates and young professionals in slum-area schools in Mumbai and Pune. Last July, the non-profit began operating in low-income private and government-run schools. The program received 2,000 applications for its first round of 87 spots. For 2010, 3,800 applicants competed for 150 openings.
TFI bases its teacher training on the Teach for America model and is a member of the Teach For All network, which connects them with similar programs around the world. Despite these international connections, the program is the lone option in India for high-achieving young people who want to teach for two years.
…
Read the rest of the story on GOOD.is
Lillian R. Mongeau travelled to Mumbai to report on the brand new Teach For India program, one of several such programs modeled on Teach For America to spring up in recent years across the globe. She has written a short story for GOOD.is and hopes to sell a longer piece in advance of TFI's late-May visit to New York City.