By Molly Oleson (class of 2013)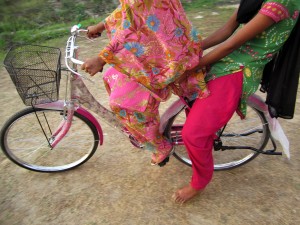 BIHAR, India, April 2012—Imagine that you are a young girl growing up in West Bengal, India. Your village smells of spices, and coconuts and pineapples hang from the trees. Women roam through tea gardens, up to their bellies in leaves that they pluck by the handful and place in bags that rest on little head pillows.
But this is not a dreamy life…
—
Molly Oleson's multimedia piece illustrates how bicycles are being used to heal and empower young survivors of sex trafficking at a remote ashram in one of India's poorest states.