By Shani Moore (class of 2004) and Ofelia Madrid (class of 2003)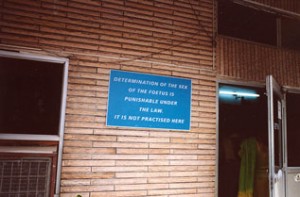 CHANDIGARH, Punjab, March 2003 – When India's first prime minister, Jawaharlal Nehru, decided to get architect Le Corbusier all the way from Paris to design this city, he saw it as a modernist symbol for an ancient country, a city that would be "unfettered by traditions of the past." Chandigarh is of enormous importance, Nehru said, "because it hits you on the head and makes you think."
Fifty years on, what hits a visitor on the head is how tradition trumps modernity.
Yes, Nehru's vision exists. Streets swell with color as women in bright T-shirts, jeans and Western dresses head to Internet cafes or local coffee shops, defying stereotypes that often depict them solely in saris or behind veils.
Yet despite the architecture, the chic dress and the wealth of women attending college, these states have the dubious distinction of being the worst place in the country for a female fetus.
At an average of about 10,000 a year, the number of selective-sex abortions from 1995 to 2001 in Haryana and Punjab rose almost 9 percent, according to the latest study by the United Nations Population Fund. This despite the fact that a full year earlier, the government outlawed the practice of determining the gender of the fetus through an ultrasound test and put in place several nationwide women empowerment schemes in health care and education.
"It is always in the back of your mind that you want a boy," said Amrita Singh, a 28-year-old former college teacher who is four months pregnant. Even if she had a girl, a complete family would require a male child, she said. For her checkups, Singh goes to a private clinic that has a prominent sign outside declaring: "Using Ultrasounds to Determine the Sex of a Fetus is Illegal. It is Not Practiced Here."
This is a result of the 1994 Pre-Natal Diagnostic Technologies (PNDT) Act under which conviction can lead to a prison term of three to five years and a fine of $200 to $1,000. Provisions of the Act apply to pregnant women unless it can be proved that they were forced to take the test.
The law is tough on paper but on the ground, there have been no convictions. "It gets very difficult to prove complicity," acknowledged Union Health Minister Sushma Swaraj, who leads the government's efforts against feticide. Minister Swaraj is a Haryana woman who, in her 20s, was the country's youngest minister ever. Yet she realizes the reaction of her peers. "As soon as they could tell if they were having a boy or a girl, women were running to the machines," she said. According to a National Family Health Survey, more than 75 percent of Punjabi women are aware of the technology to determine the gender of the fetus.
Government laws and private and public campaigns have made hardly a dent in reversing the exceptionally low female to male ratio here. For example, in 1991, according to the Indian census, there were only 875 girls (0-6 years of age) per every 1,000 boys in Punjab. By 2001, this number had fallen to 793.
In contrast, for India as a whole, the corresponding ratio fell from 945 in 1991 to 927 in 2001. In the United States, there are approximately 954 females per every 1000 males. Punjab and Haryana, incidentally, have the lowest female to male ratio among India's 29 states.
Enforcing the pre-natal law has become tougher as ultrasound technologies have become cheaper and more lightweight. "People are just taking the portable ultrasound machines, putting it into their cars, and going to people's houses," said Dr. G.S. Kochhar, former president of the Indian Medical Association. "You can't stop it."
The Indian society does not want to, said Dr. Rainuka Dagar, a research fellow at the Institute for Development and Communication in Chandigarh. She blamed India's patriarchal social structure for the female child not having the same value as the male child in the Indian family.
"Parents look at the female child and think, 'We're going to be paying for a girl for the rest of our lives,'" Dagar said. "It's like putting money in the neighbor's bank."
A daughter is seen as a drain on the family finances because she will eventually marry, leave the family and a dowry will have to be provided. One common sign advertising ultrasound clinics in Punjab, pulled down after the law was passed, said it all, comparing the costs of an ultra sound test to a dowry: "500 now, save 5,000 later."
So it is no surprise that while "there is no social stigma to having an abortion," said Professor Pam Rajput, Director of the Women's Studies and Development Center at Punjab University, "there is a social stigma if you have a girl."
According to the pre-natal law, neither doctors nor technicians are allowed to test specifically for the sex of the fetus unless they are screening for a sex-linked genetic disease. When performing general scans, and recognizing the gender of the fetus is unavoidable, they are still forbidden from revealing that information to the parents.
All the law has done is "drive up the prices," Professor Rajput said. "Before, where you could learn the sex of the child for 500 rupees, now they are charging 1,000 or more." Abortions at the later state cost anywhere from $100 to $200.
"The whole process (of identifying and destroying late-term fetuses) takes about 24 to 48 hours," Dr. Kochhar said. "These are not simple procedures, and now unqualified people are doing it," he said, estimating that most people performing the illegal ultrasounds are X-ray technicians.
An attempt to address the problem has been introduced by select members of government, among them Minister Swaraj. Her experimental new plan, entitled, "Your Daughter, Your Wealth," seeks to change the cultural psyche of undervaluing women. Pregnant couples that participate in the state's pre-natal care program will receive 1,000 rupees or about $20 if they deliver a girl — and $10 if they deliver a boy.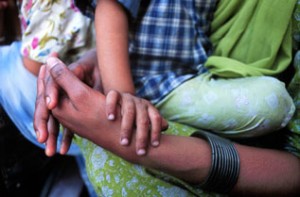 Critics of the bonus program say it is unlikely to change the culture that prizes men over women.
"1,000 rupees?" Dagar, the Chandigarh researcher, scoffed. "From top to bottom, male superiority is legitimized. That matter cannot be targeted (by this program.)."
Other efforts from the government have focused on revamping existing laws. As it was originally crafted in 1994, the pre-natal law had no teeth. Amendments adopted in February of this year provide for greater tracking of the monies potentially received through sex-screening and also increase penalties for violating the law.
Professor Rajput, however, argues that the society mentality has to change before the edict can take any real effect. "These traditional ideas have been embedded into our minds for ages," Rajput said. "It takes time."
Reema Sharma, a 25-year-old teacher who is three months pregnant, is a reminder of how long that will be. Sharma has huge brown eyes that blink furiously when she talks about the sex of the child. "My in-laws are OK with this; they won't force me to have another child if it's a girl.
"But it would be nice to have a boy," she said. "They would be happier."