Video by Armand Emamdjomeh (class of 2010) and text by Jordan Conn (class of 2010)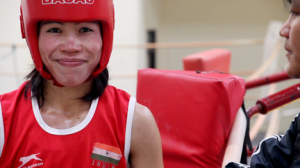 BHOPAL, Madhya Pradesh, April 2010—To find the world's toughest pound-for-pound female fighter, you have to journey through a place where the women carry water on their heads and the mosquitoes carry malaria in their guts. Mangte Chungneijang Merykom—the four-time pinweight world champion better known as Mary Kom—trains here on the outskirts of Bhopal, a state capital located squarely in the center of the Indian subcontinent. Here, gaunt cattle meander through the road while barefoot children pay them no mind, instead running through and around the tarp-and-wood built huts that serve as their homes.
Along this route you'll find one water pump, a few stray dogs, and several dozen residents: mostly farmers, though living on land that has been stricken by drought. But continuing on the neighborhood's single paved road, the expanse of barrenness gives way to signs of modernity as you reach the Sports Authority of India training center, a sprawling complex of fields, gyms and hostels. Presently, the complex is home to the national women's boxing team, a group of women who—despite growing up in a country with little support for female athletes—represent India's efforts to shed its reputation as an Olympic underachiever.
[iframe_loader width="100%" height="400″ src='http://player.vimeo.com/video/12143999′]
On this late-March afternoon, the multipurpose training hall is awash in controlled chaos, with 34 boxers participating in group sparring drills. The fighters may represent India's elite, but the gym is more fit for untrained amateurs than for Olympic medal contenders. Dusty and dim with no air conditioning to shield the athletes from outside temperatures that near triple digits, the cavernous room is nonetheless a centerpiece in one of India's finest facilities. And in it, the fighters rotate, trading partners and exchanging blows, each boxer getting a shot at all others in her weight class.
And then the lights go out.
It's common here—common enough that the boxers barely lose a beat—as power outages occur frequently throughout India, and the government-run training center isn't immune from the country's infrastructural growing pains.
But you can still find Mary Kom standing in the darkness, stretching her 5-foot-nothing, 100-pound body as she awaits her next opponent. Kom is clad in a red jersey with the word "POLICE" emblazoned across its back—a nod to her service to the department in her hometown of Imphal—and has on dusty old white Adidas sneakers, a pair of baggy shorts, and her standard red headgear and gloves. When the whistle blows Kom snaps to attention, touching gloves with her next partner, Pinky Jingra, before crouching into a ready stance.
Even in the darkness, Kom's movements look electric. The smallest person in the room attracts the most attention. Every flinch—whether it be a nod of the head or a spasm of the shoulder—seems rehearsed, calculated, measured down to the perfect time and distance needed to lure Jingra into her trap. Kom is part-brute, part-ballerina, equal parts competitor and performer. If she wasn't a boxer, she'd be a singer, she says, or perhaps a model. Either way, she would be seen, known, and adored, her infectious energy and world-beating confidence propelling her onto some sort of stage. For now, Kom's stage is a training mat. Her audience is a coach, a reporter and a translator.
And her performance is flawless.
Kom dances, pauses, and then detonates, each fist a live grenade exploding through Jingra's quickly-weakening defense. She unfurls a barrage of jabs complemented by an occasional but devastating left hook, driving Jingra backwards until she reaches the edge of the mat. When the violence pauses, it seems to have stopped only because Kom willed it do so. And when it resumes, Kom refuses to relent until the whistle's final sound.
Women's boxing will make its Olympic debut at the 2012 London games. Though rarely seen as a bastion of feminist progressivism, India was among the countries pushing hardest for the sport's inclusion. The reason is simple: Kom and her teammates are good. And when it comes to Olympic competition, India is not. So when 2012 rolls around, 1.2 billion people will look to this diminutive dynamo as their great hope for Olympic glory.
"She can win gold," says Viren Rasquinha, COO of Olympic Gold Quest, a foundation that supports Kom and other elite Indian athletes. "And it would excite this country in an unbelievable way."
—-
Despite the fact that more than 17 percent of the world's population lives in India, the country has won only two Olympic gold medals in the last four decades. Of the ten largest countries on Earth, only Bangladesh (population: 162 million) has had less Olympic success.
"We have never had the proper training structure in place at the youth level," says RK Naidu, director of the SAI training center in Bhopal. "To compete at the highest level like America and China you have to be training from 13 or 14 years old."
Cricket remains the most popular sport in India, followed by soccer, field hockey, tennis, and basketball. But boxing's popularity has grown over the past 15 years, particularly in the states of Haryana and Manipur, where influential local coaches have led efforts to increase youth participation. And while some male boxers have won on the international stage—Haryana native Vijender Singh won the middleweight bronze in Beijing—the women's team has had the most consistent success.
Kom won silver in the first women's world championships in 2001, finishing as India's lone medalist. Her success inspired increased participation and funding for the sport. In the 2002 world championships Kom won gold, and three of her teammates earned bronze. Kom defended her title at the next world championships in 2004, this time complemented by four bronze medals for the rest of the team. India emerged as a bona fide powerhouse in 2006, when the national team earned four gold medals, more than any other country.
But despite their success, the women still must fight against a culture that sees their sport as unfeminine. "There is a problem in Indian culture," 2008 silver medalist Usha Nagisetty says through a translator. "Women are not expected to leave the home. They're not expected to do anything."
Beyond the cultural bias against their sport, the fighters also struggle to keep up with the world's elite while training with second-rate equipment in subpar facilities. "We need more imported equipment," says Vankideser Rao, a national team assistant coach. "We need better gloves, better headgear to avoid injuries."
Kom sometimes trains alone with the support of the Olympic Gold Quest, using private money to work out at better gyms in China. There, she is given better equipment, and she eats meat three times a day. At India's camps, cost and religion (many Hindus are don't eat meat) limit the menu to mostly-vegetarian dishes. Olympic Gold Quest is also trying to send Kom to Ireland to train with Peter Taylor, a world-renowned coach and the father of Katie Taylor, one of the world's best lightweight fighters.
But the other boxers are left with domestic facilities and coaches as they compete for an Olympic opportunity. And although most international tournaments include 13 weight classes, only three weights will compete in the Olympics. This means fewer slots on the Olympic team and increased competition once the games begin, as everyone will be fighting against boxers who typically compete in weight classes heavier or lighter than their own.
Still, India figures to field several medal contenders, including Nagisetty and 2006 world champion Sarita Devi. But the woman shouldering the most pressure is Kom.
—
Growing up in a remote village in the volatile state of Manipur, Kom was discouraged from boxing because her father didn't want damage done to his daughter's pretty face. What his advice failed to account for, however, was the fact that Kom would turn out to be so good that she would barely ever have to take a punch.
His lack of foresight was understandable. A poor farmer with four children and little means with which to feed them, Kom's father saw no reason for his daughter to spend her days fighting when she could be studying or working. But as a natural athlete with an affinity for kung-fu movies, Kom was transfixed the first time she saw boxers training at a local gym.
So Kom, then 17, went behind her parents' back. Saving the $3 monthly allowance she was given, Kom bought her first pair of boxing gloves for $10. She showed up at the gym one day, asking to join the fight. Local coach Ibomcha Singh told Kom that she was too small to enter the ring. She persisted, and eventually, he relented.
The decision paid off. "She's small, but she has a great body for boxing," says national team coach Anoop Kumar. "Long arms, quick feet, a good reach."
Three months after she first donned her gloves, Kom won the state championship. Her parents learned of their daughter's deception by seeing her picture in the local newspaper. Rather than celebrating her talents, Kom says, "everyone in the village just laughed at me."
Their disapproval became her motivation.
"One day," she recalls saying to her parents, "I will show you. I will show everyone."
But show them what? In a culture with little use for female athletes — even those who compete at the highest levels — how much must be proven before acceptance is gained? Should she show that she could compete on the world stage? Kom did that the next year, winning a silver medal at the 2001 world championships in Scranton, Penn. Show them that she could financially provide for the family? That happened when the government gave her a job with the local police department as part of the compensation package India gives to all of its elite international athletes.
The success and steady paycheck helped to win the approval of her parents, but as Kom's career continued, her detractors persisted. After winning world championships in 2002 and 2003, she married Onler Kom in 2005. Marriage brought expectations of retirement, as her home community implored her to focus on beginning a family rather than continuing her career.
Pressures to marry—and in turn, to spend in the home and away from the boxing ring—affect nearly all of India's female boxers. Some wed and then abandon their boxing careers. Nagisetty has postponed her own wedding until after the London Olympics. But Kom is one of few who have managed to be both a wife and a world champion.
"For most women in India, after marriage, their future is finished," she says. "I want them to see, if Mary Kom can do this, I also can do this."
Onler gave his wife full support, pushing her to continue training and competing rather than devoting all her time to caring for their home.
"I am like the boy and he is like the girl," she says with a laugh. "He cooperates with me. He supports me."
In 2007 Kom gave birth to twin boys, Rechungvar and Kupneivar, in a Caesarean section surgery. Pregnancy and early motherhood took her out of the ring for a total of 18 months. When she wanted to return to competition, even her coaches believed that she was incapable of regaining her world-class form.
While it is not uncommon for mothers to compete in international sporting events—American Olympians Lisa Leslie and Lindsay Davenport come to mind—to many, the violence inherent in boxing seemed to be too much for a woman who'd given birth, particularly by C-section.
"Everyone said, 'If you had good sense, you would stop,'" she says. "My coaches said I was too weak. Only my husband supported me."
She returned to competition in the Asian championships in September 2008, where she lost in the gold medal fight, her second loss in an international competition and her first since the 2001 world championships.
"Even though I lost, I realized that I still had some strength left," she says. "If I can make it to the final, then with more training, I can win another gold medal." Two months later she did just that, earning her fourth world gold and becoming the first mother to ever win a world championship.
Now, Kom has more world championships than any woman in history. She has won the Rajiv Gandhi award, the highest honor an Indian athlete can receive. She has inspired an entire generation of Indian female boxers. "Being the mother of two, being the world champion, she has been such an inspiration to the women of India," says Nagisetty. "She shows just how strong Indian women are." Everyone who has ever doubted her—be they parents, coaches, journalists, or anyone else—has been proven wrong. So with her boys growing up and her boxing academy (a school that trains young fighters from remote villages in Manipur) now thriving, it may seem like there is little motivation for Kom to continue.
Yet she continues to work—sparring with gloves befit for a beginner, eating meals that lack the protein her body requires, and struggling against a society that still regards her with suspicion—day after day.
"I would retire," she says, "if it was not for the Olympics. My motivation is to win more championships, to win every tournament. But my biggest motivation is to win the Olympic Gold medal."
Finally, she just might get that chance.