By Melanie Mason (class of 2010)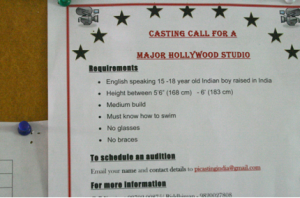 MUMBAI, India, April, 2010—For Shankar, it was a whopper of a first day in class.  The 18 year-old, with floppy hair and a bewildered expression, was called to stand among 35 seated classmates. Shankar did not appear to relish being the center of attention.  He fixed his gaze firmly at the floor in front of him, mumbled his name and his age when asked.  The communication problems did him no favors; his instructor Rob Reece is American and speaks no Hindi and–despite attending an English-instruction school–Shankar's English was shaky at best.  Using Reece's fellow instructor, Jameel Khan, as a translator, Reece asked Shankar why he seemed so tentative.  "He says he's shy," Khan said. Reece laughed, looking distinctly like a shark that has just smelled blood in the water.
The exercise was about humiliation.  Shankar had to mimic his classmates' gestures and sounds, and as more students jumped up, the embarrassment magnified—the gestures became lewd, the noises became shouted expletives, and in one homage to Jim Carrey's Ace Ventura movies, one student bent at the waist, grabbed his own behind and pretended to talk from it, imploring Shankar to do likewise.
This, according to Reece, is how you build a better Bollywood actor.
Reece, a member of the famed Actor's Studio, has until recently been teaching a small Method acting workshop in Los Angeles.  But now he is in Mumbai, India, attempting to bring his Method approach to students at Whistling Woods International.  Whistling Woods is at the epicenter of Bollywood—its campus is located in Film City, Mumbai's sprawling studio complex where many Bollywood pictures are filmed.  Its chairman is Subhash Ghai, a well-known director who is often called the "showman" of Bollywood.  After a trial run last fall, Reece moved to Mumbai in January to begin a three-year stint as head of the acting department for Whistling Woods, revamping the school's curriculum in the Method approach.
"It's an in-depth and specific perspective on how actors can train," Reece says.  "The actor's task is to express the human condition in a truthful, real, organic way."
For beginners like Shankar, that training begins with the humiliation exercises.  "That breaks the ice," Reece says.  "Because if you can do those things—those silly things, those outrageous things—then it's easier just to stand there and be yourself.  If I can do these things, what have I got to hide now?"
Beyond the butt-talking, there are other exercises in Reece's repertoire.  He introduces them in pithy shorthand—"now it's time for sense memory," "let's do an imaginary monologue."  In each exercise, Reece lobs probing questions about the students' own lives, asking them about times that they felt vulnerable or sexy or hateful.  Students can exaggerate or imagine circumstances that would provoke an emotional response, but much of it is tied to their own experiences, making the class feel exhaustingly intimate.
"Rob is really helping us in opening us up," said Ambuj Dixit, a 21 year-old Whistling Woods acting student from the Indian state of Uttar Pradesh.  "When we started our classes here, we were very stiff.  It was very difficult for us to express our emotions."
Reece sees his work as an entry point for revamping the entire Bollywood industry, an industry that critics say produces mostly escapist, melodramatic fare.  "As acting changes, the directing can change and writing can change," Reece says.
But wait a minute.  Isn't this Bollywood we're talking about—the industry that, until quite recently, shied away from showing the romantic leads kiss on the lips?  Reece is training actors to portray sexuality and humanity's grittier emotions with a frank directness, instead of Bollywood's more typical wink.  How can this possibly work?
An approach like Reece's would have probably been dismissed by Bollywood insiders a few years ago.  But lately, the industry has ndergone key changes that have impacted both the business of making movies and the types of films that are being made.  Most significantly, the flirtation between Bollywood and its sister industry, Hollywood, has blossomed into a full-fledged courtship, and the growing relationship has substantial implications for both the business and art of film in India.
It is no surprise that Hollywood has its sights set on India.  It's got the makings of an ideal market: a democratic country with an economy growing 8% each year.  As many as 4 billion tickets were sold in the country last year, and the emerging middle class has grown to about 250 million people, not far off from entire population of the United States.  But historically, Hollywood films have constituted only a tiny fraction of India's box office—around 5%.  Indian audiences were and continue to be receptive to Hollywood blockbusters; in less than two months, Avatar grossed over $24 million in India.  But for American studios seeking to capture a bigger slice of the market, they had to change their approach.
"Here was a huge industry, a huge market and they were not able to capture it by imposing their products," said Ravi Gupta, CEO of Mukta Arts, a studio run by Whistling Woods's chairman Subhash Ghai.  "Because this market's requirements of entertainment were significantly different than those of Hollywood.  The format in which stories are told, the way that stories are told, the star system that exists over here — these are issues that are very significantly different."
Instead of simply exporting films produced in the United States, American studios are now producing films in India aimed at a local audience.  Starting in 2007, Sony, Disney and Warner Brothers have all produced Bollywood-style, Hindi-language films.  Gupta said Hollywood's involvement with local production is reminiscent of the soft drink market in India—when Coca-Cola had trouble ousting local cola Thums Up as the country's most popular soft drink, it instead went about acquiring the brand in 1993.  "You have to think globally, but act locally," Gupta said.
Perhaps the best example of that approach is by Disney India, which announced plans to target the South Indian market and is producing an animation film scheduled for release in 2011, partnering with K. Raghavendra Rao, one of the best-known directors of Telugu-language films.  It's a keen move on Disney's part; Hindi-language Bollywood is only one of a number of India's thriving regional film industries.  South Indian cinema—consisting of Telugu, Tamil, Malayalam and Kannada language films—was named India's most prolific film-producing region in a report last year by Ernst and Young.  And the focus on regional cinema could help Disney push its product beyond India's largest cities; in a report released in March, the Federation of Indian Chambers of Commerce & Industry said demand for regional products was growing significantly, particularly in smaller population hubs classified as "B & C cities" by the Indian government.
The fervor of American studios to stake a place in the Indian market is coupled with a similar desire for Indian studios to expand their reach abroad.  Last year saw the finalization of at $825 million deal between India's Reliance Big Entertainment and the American studio DreamWorks.  This year, Reliance will also be releasing two versions of the movie Kites, starring Bollywood heartthrob Hrithik Roshan—an original Hindi version and an English version, re-edited with a shorter run time and less song sequences in order to appeal to a Western audience.  Earlier this year, many industry watchers were following the overseas performance of My Name is Khan, the latest from superstar Shah Rukh Khan, after Fox secured the distribution rights to the film.  As of April 11, the film had grossed a little over $4 million in the United States.  Gupta said it is likely much of that came from Indian nationals living abroad or Indian-Americans, with little indication that it is reaching beyond that core audience.
"I think we shouldn't get overexcited thinking about the movie has gone international," Gupta said.  "For us to be able to reach international markets, we have to be able to make films that address the sensibilities of the West.  Our films and the format in which we make them, they don't achieve that at all."
In the desire to expand to a global audience, Indian filmmakers and studios have a very fine balance to walk.  Try too hard to draw in new audiences—by cutting down on Bollywood's beloved song and dance sequences, for example—and you run the risk of alienating a loyal domestic audience.
"If you lose your own specific storytelling style, it's not worth it," said Nasreen Munni Kabir, a London-based author, documentary filmmaker and expert on Indian cinema.  "You have to be accepted on your own terms.  Because if you change your style, you'll lose your own audience."
Since the 1990s, however, there has been another dominant trend in Indian cinema: the multiplex.  The introduction and proliferation of multiplexes in India have transformed the types of movies that are now being made and are ushering in a new era of experimentation in Indian cinema.
In a country that has over 10,000 movie houses, multiplexes are still relatively rare: about 250 exist in the entire country as of December 2009.  But their impact has been considerable.  For air-conditioned theaters, cushioned seats and concessions, multiplexes can charge as much as five dollars for a ticket, as opposed to the one dollar it costs to see a movie in the traditional single-screen theaters.  Filling a 400-seat multiplex theater at the higher price becomes just as economically viable as selling out a 1,500-seat single-screen theater—but no longer do you have to make a film that would attract 1,500 individuals for a showing.  The introduction of multiplexes in the market has fragmented the Indian audiences, which means filmmakers can tailor movies to the tastes of a narrower audience.
In years past, "the movies were basically boy meets girl, they dance around — happy stories with happy endings," says student Ambuj Dixit.  "What happens now is they're really experimenting with more topics."
The success of the 2009 film Kaminey (Scoundrels) is telling.  The film plays on many classic Bollywood tropes—lead actor Shahid Kapoor plays dual roles as twin brothers suffering from mistaken identities—but there is only one major song-and-dance number (about the importance of safe sex) and the no-lip-kissing rule of traditional Bollywood is violated.  Newsweek pronounced it to be a "competent, realistic, story-driven film" and named director Vishal Bhardwaj among those who are "reinventing Bollywood."
"The multiplex is an expensive medium now," said Meghna Ghai-Puri, president of Whistling Woods and daughter of chairman Subhash Ghai.  "Indians like to bring their entire families, so the film has to be really worth it.  You have to have some sensibility to be able to spend that kind of money. …People are now expecting Indian films to get as good as Hollywood films."
This is the crux of Reece's Whistling Woods experiment.  Reece says he sees his work in India as embarking on a new frontier, evangelizing the power of Method acting with the zeal of a missionary.  "The thing I know to be true is this: human beings are human beings wherever you go," he says.  "Art remains the same."
Reece tells his students to operate organically and  disregard stage directions that are meant to reveal emotion or mood. But the reality of that approach is not so easy.  In class one day, a student gingerly asks how to reconcile the desire to be organic with the demands of a pushy director.  "When we actually work on a film," he says, "what happens invariably is that we are always ordered to do a particular thing."
This clearly touches a nerve with Reece.  "A director who is asking you to be a puppet or a robot — they are by-the-numbers going to tell you to smile here and laugh here — that director doesn't know what the f— they're doing," he says, his voice escalating.  "They don't know how to f—-g direct.  It's one of the reasons there's so many f—-g horrible films."
Clashes between the creative types are not uncommon in Hollywood.  But Reece's student raises a legitimate concern.  In an industry that has not, up until now, been exposed to the DeNiro-esque approach to acting, will directors have the patience or desire to indulge an actor and this type of performance?  One of Bollywood's biggest stars Aamir Khan, is not trained in the Method but is known for his meticulous, some would say perfectionist, preparation for roles; his work style has earned him a reputation for being high-maintenance.  So while Whistling Woods is quick to trumpet Reece as a member of the Actor's Studio, the school is less likely to rely on the Method as a selling point to those in the Indian film industry.
"If you say Method acting, the Bollywood people would say, 'what? Are the actors not going to be flexible anymore?'" said Ghai-Puri.  "'Are they not going to listen to the director anymore?  Are they going to analyze things too much?'"
And of course, there is the question of whether audiences will respond.  Nasreen Munni Kabir says she's skeptical that Method acting, as seen in American theater, will translate to Indian films.
"How will that work here?" she asked.  "Some things you just can't import."
So which is it: Reece's view that art is art, no matter where it is, or Kabir's theory that this cultural transplant just will not take?  Audiences will have their first chance to weigh in next year, when Mukta Arts releases a film produced by Subhash Ghai and starring Whistling Wood-trained actors, all training with Reece for the film.
But it is also possible that Reece's students might find a break outside of the Indian market.  Ghai-Puri says she sees the school serving that kind of role.  "If we invest today in talent, we'll train them to do well in the Indian film industry," she says, "but also to be prepared, if they get an opportunity, to do well in any part of the world."
In spite of of Indian studios to lay claim to part of the American market, perhaps it is this idea—a cross-over of talent—that is more likely the immediate future for the two industries.  "I see the big change happening is that Indian talent will work in Hollywood films," Kabir says.  "And Hollywood talent will work in Indian cinema."  She added that Indian choreographers, costumers and musicians, like Slumdog Millionaire's Oscar-winning composer A.R. Rahman, will likely find success in the United States, while American editors, cinematographers and scriptwriters will have ample opportunity in India.  Ironically, it was this type of global cross-pollination that gave rise to the "first lady" of Indian cinema, Devika Rani, who founded the studio Bombay Talkies with husband Himanshu Rai.  Back in the 1930s, Rani spent time in Germany with Fritz Lang and Marlene Dietrich while working on post-production of Indian films.  Even in this age of globalization, in some respects, it is the same plot Indian cinema has followed before.
Only time will tell where Reece and his students will fit into the industry's current landscape.  Just as the Indian industry as a whole must strike a fine balance in seeking a new global audience and keeping its domestic audience happy, so too are schools like Whistling Woods walking a tightrope—Reece's classes in the afternoon follow morning classes in dance and acrobatics.  Reece's students practice handsprings in the courtyard at lunch and rehearse dance steps outside class while they wait for Reece to arrive—one foot in the old ways of Bollywood, one in its idealized future.